Titanium Commuter
Posted:
Updated:
If you just want to see the pictures, scroll down to the end of the page.
A few years ago I started commuting solely by bicycle, and it quickly became obvious that road bikes have a few shortcomings when used for this role:
Rim brakes do not stop quickly in the rain, and trying to do so wears out the rims and brake pads really fast.
Tackling pothole-strewn roads is no fun when you can't fit tyres bigger than 25c.
Clip-on mudguards do a fair job of keeping water off my back, but not the bike, which means a lot of time spent cleaning.
I had a few secondary requirements too:
A fork with closed dropouts of some sort, since normal open dropouts are a poor design for use with front disc brakes.
Titanium frame. This is an ideal material for commuters, because it's virtually impervious to corrosion, you don't have to worry about scratching it (assuming a bare metal finish), and it's generally very tough.
Indestructible. Most titanium frames are built to be light, but I would rather have something that can handle being chucked about.
A bunch of other minor things unlikely to be found on a standard bike.
So I needed a bike with disc brakes, plenty of clearance for larger tyres and full mudguards, but still fast like a road bike - something similar to a cyclocross bike, but not quite. When I first came up with these requirements, there wasn't anything quite suitable available. In particular, I couldn't find any road or CX forks with closed dropouts, so I considered getting one custom made, and thought I might as well get the frame custom made too.
I did some research on what would make a perfect frame for my needs, drew up a design, and contacted some UK titanium frame-builders, but it turns out that persuading people to take my money is harder than one might expect. This forced me to look overseas, and of all the companies in the world that work with Ti, Firefly caught my eye due to the sheer beauty of their handiwork.
I contacted Firefly, and their frame designer, Kevin, was very helpful, pointing out various flaws in the design, and that I wouldn't need to get a fork made from scratch, as Whisky Parts Co. had recently released a thru-axle disc fork. It wasn't all good news though; Firefly, perhaps unsurprisingly, have a very long waiting list, so I wouldn't get my frame until the following year...
Frame
After riding through one of the wettest winters on record (again) on my old bike, I was notified that the frame was being constructed, and then a short while later received some photos of it.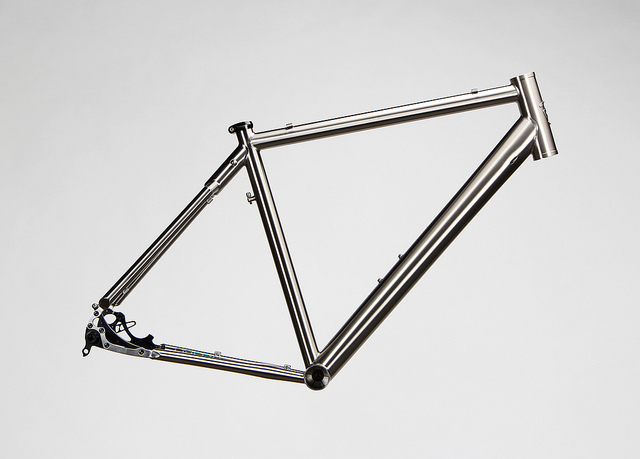 The first thing you will probably notice is that the tubing is on the large side, especially the downtube, which transcends the boundaries of mere oversized tubing to become truly Hugenormous™. In combination with the compact geometry, this makes the frame as stiff as possible, reducing stress on areas of the frame that are prone to fatigue. Although titanium is highly resistant to fatigue, there are enough examples of cracked frames on the internet, even from the most respected fabricators, to make me want to minimize the possibility. Particularly susceptible are the join between head tube and down tube, and the joins between bottom bracket, down tube and seat tube. It should also be more resistant to damage from other sources, such as hitting potholes craters in the road, which applies large forces to the downtube just behind the head tube.
The dropouts are another feature that stands out in the photo. They are Paragon PolyDrops, with inserts for a 142x12 thru-axle. These were a last-minute addition, as they were not available when I initially contacted Firefly. A rear thru-axle is overkill, but does provide that little bit of extra stiffness with no significant downside, and it's nice to have the front and rear matching (actually they don't quite match - there are half a dozen slightly different axle standards, and I ended up with a Rockshox Maxle at the front and a DT Swiss at the back).
The frame weighs 1.9kg, which is quite a bit heavier than typical Ti frames. In return for the extra mass, the frame should be exceptionally strong and stiff, and the strength-to-weight and stiffness-to-weight ratios should be through the roof.
Fork
Whisky No.9 carbon thru-axle cross fork. This is a substantial fork - when mounted, it makes the frame's tubes look almost normal-sized in comparison. Frustratingly, all the versions of the No.9 have mudguard eyelets, except the thru-axle version. Fortunately, Firefly arranged to have it sent to Parlee to fix that. Another peculiarity of the fork's design is that the caliper mounting posts are positioned for a 140mm disc, whereas I'm sure most users of this fork wouldn't want to fit anything less than 160mm, which is what I chose. Buying a suitable adapter was a confusing affair, as they are generally sold as "180mm" adapters, because they will adapt a 160mm mount to 180mm, but really they are +20mm, and so will adapt a 140mm mount to 160mm too.
Wheels
Hubs
POP Products. Using thru-axles front and rear allowed me to choose from a plethora of disc hubs intended for MTBs. Unlike road hubs which usually only come in black or silver, MTB hubs tend to be available in a full spectrum of colours, so it was easy to find ones in green to match my intended colour scheme. I ended up choosing these particular hubs because they have the same flange diameter on both sides front and rear, which combined with the very even flange spacing meant that spokes of a single length could be used to build both wheels. They are also beautiful, and remarkably light for disc hubs.
Rims
Velocity A23. I intended to use the OC version front and rear, to keep spoke tension even on both sides (disc brakes mean that the front wheel is dished as well as the back wheel), but I was accidentally sent the normal A23 instead. I used them anyway, since they are still good rims.
Spokes
Pillar PSR X-TRA 1422. These are virtually identical to the popular Sapim CX-Ray, but much cheaper. I like bladed spokes because they can be held in place to prevent wind-up when building the wheel.
Tyres
Vittoria Voyager Hyper, 32c. Tyres larger than 25c are rarely made for low rolling resistance. These are one exception, and are supposed to be reasonably tough too. Usually they are significantly more expensive than I like to pay for tyres, but I picked up a pair cheap.
Mudguards
Squaretree Woodguards. Most full-length muguards look awful, especially when combined with a modern bike. There are a few niche companies who will make something a little nicer, such as Squaretree, who I chose because I wanted to have at least one part of the bike made in the UK. Awkward as I am, I wanted every part in a colour that they don't do as standard. They had no trouble doing everything exactly as I wanted, though it did take a long time because of it.
It was worth the wait, and the cost, as you will see in the photos further down the page...
Drivetrain
Chainset
Tune Smart Foot Road. On my old bike I have standard 53/39 chainrings and a large 12-30 cassette, which gives me just the right range to cope with every hill in the area. Since I anticipated that the new bike would be heavier, I thought it wise to allow for lower gearing by using "semi-compact" 50/36 chainrings. I prefer this combination to the normal compact 50/34 becase the gap between chainrings is smaller, which means less double-shifting. The Smart Foot is one of the few chainsets that can be bought with 50/36 chainrings, and crucially it is the only chainset I could find that can be obtained with a green spider to match the other green parts on the bike. Like all things from Tune, the machining is impeccable.
Rear Dérailleur
Shimano 105 5701 SS. With virtually identical performance to the higher group sets, but much cheaper, 105 is a good choice anywhere that the slight weight penalty doesn't matter.
Front Dérailleur
Shimano CX-70. This is the only top-pull road dérailleur available. It comes in Ultegra grey, not black, but it doesn't look too out of place.
Chain
KMC X10 TiN. This is the cheapest and heaviest version of the X10, which I chose because the hollow pins and slots in the lighter versions makes them harder to clean.
Cassette
Shimano Ultegra CS-6700, 12-30. Curiously, Shimano make 12-30 cassettes only at Tiagra and Ultegra levels. What makes them decide that the people who buy those two groupsets need a cassette of that specific size, but not everyone else? I opted for Ultegra, as the aluminium carrier helps reduce gouging of the freehub body. It's quite a bit lighter too.
Brakes
Calipers
TRP Spyre. These were announced just as I was beginning to plan the bike, and it was immediately clear that they would be ideal. The main attraction is the dual piston design, which makes them easier to adjust, and may slightly improve power. They are also very compact, and therefore much less likely to interfere with mudguard mounting or cause heel clearance problems.
Rotors
I just used the rotors that came with the Spyres. While it is common to use a smaller rotor in the rear (since the rear brake does not need to be as powerful as the front), I decided to use 160mm front and rear, for simplicity. As it later turned out, I wouldn't have been able to use a smaller 140mm rotor at the rear anyway, as the Polydrops won't fit anything smaller than 160mm.
Everything Else
Handlebar
Carbonal "Bar 6". This handlebar is also one of very few offered in a matte UD carbon finish with no logos, an anatomic bend, flat tops, and decent reach and drop. There is a slight flare to the drops. It's reasonably stiff, despite being very light.
Bar Tape
Lizard Skins DSP 3.2mm. I got this to see if the extreme thickness would be comfortable. It is. It also makes the tape really hard to wrap.
Stem
J&L Titanium MTB Stem. From the same company that made my other bike's Ti frame, it's cheap, yet of decent quality and it looks nice. They don't appear to have any distributors except on eBay.
Seat post
POP Products. Needing a 30.9mm post means slightly less choice than the more common 27.2 and 31.6 sizes. I got this one because it matches the hubs, and the logo is not too loud. Like the hubs, it appears to be very well made, and is light.
Headset
Chris King Inset7. I didn't really want to get this, as I don't like the way they shout "KING KING KING KING" 360° around, but there is little choice in 44mm tapered headsets, and even less in green.
Saddle
Selle Italia Superflow S. Previously, my favourite saddles were the ones with cutouts from Specialized. I didn't go with Specialized this time because I prefer not to support companies that sue a lot. I looked around for something similar, saw the Superflow, and thought that if I found saddles with a cutout comfortable, then more cutout must be better!
Pedals
KCNC Knife. Tiny platform pedals. The stainless steel axles are plated with titanium nitride, so they match the other gold highlights on the bike, and the stainless steel pins make them nice and grippy despite the small size. They are not quite wide enough to support my entire foot; 10-20mm wider would have made them perfect. They're expensive normally, but can be found for a more reasonable price on eBay. Some people might question the use of platform pedals without even toe straps, but they are the practical choice for bikes used for transportation, where you need to wear normal shoes and negotiate heavy traffic.
STI Levers
Shimano 105 5700. These things are surprisingly durable given the intricate mechanism inside, and unlike Shimano's other groupsets, they are available in black. This version of 105 with the gear cables routed under the bar tape is finicky to set up, but works great once that hurdle is overcome.
Cables
Nokon. I was planning on just using the normal Shimano cables that came with the STI levers until they wore out, then getting the Nokon cables later, but the rear brake cable didn't reach (long enough for a rim brake, but not a disc brake mounted far away on a chainstay), so I got these straight away instead. Not only do they look spiffy, they can also be run fully-sealed, which should help them last longer in wet conditions, and being compressionless improves the feel of the brakes.
I ran normal Shimano cable housing through the downtube for the rear brake because I didn't want the Nokon cable rattling, or getting stuck. This required double-ended ferrules to join the cables together, which are hard to find, so I made my own by taking a pair of the normal ferrules, soldering them together, then covering them in heatshrink tubing to make them look neat.
Ride
As the frame was custom made for me, there was no effort needed to get it fitted - everything fell naturally into the correct position, and it was comfortable straight away.
Compared to normal road bikes, this one has a slacker head tube angle (72°), more trail (65mm), and a longer wheelbase (1040mm), giving it more relaxed handling, yet it is still quick enough to dodge potholes (why do normal road bikes need to be so twitchy? They are bicycles, not jet fighters). The handling remains consistent at low and high speeds. There is a noticeable amount of wheel flop, which makes it a little more awkward to wheel through the house, but otherwise doesn't seem to have an adverse affect.
People often talk about the comfort of frames, but my opinion is that frames are there to hold the components in place and nothing more. Comfort should come from the parts specifically designed for that purpose, primarily the tyres, saddle and bar tape. Tyres especially have a far bigger impact than anything else. This is why I had no qualms about specifying a very stiff frame, and the strategy has worked - there are many sections of road that are so rough that I have to stand up when riding my other bike with 25c tyres that I can ride over seated on this bike with 32c tyres. Generally it feels very smooth, yet still solid when cornering.
The brakes are the most important feature of the whole bike, and they are extremely good in both power and modulation. It hasn't rained for a while, so I don't yet know how well they work in the wet. Hopefully it will be a long time before I find out.
I was expecting the extra weight to make this bike feel slower than my other one, but if anything it feels slightly faster. Maybe it's the larger tyres, or maybe it's just new-bike-placebo-effect.
Photos